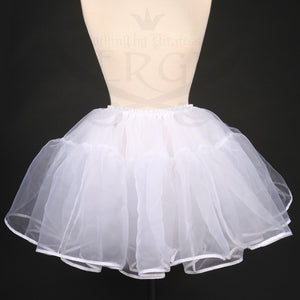 Cupcake Shape Organza Petticoat
Poofy petticoat, made with machine washable organza and comfortable polycotton lining.
Bottom hem is covered with ribbon for durability and stability.
We've designed this petticoat to be as versatile as possible, and perfect for most Lolita fashion dresses.
As the petticoat is lightweight enough for a soft elastic to be used at the waist, it's also possible to wear the petticoat slightly lower with longer skirts. Of course, you can also wear it right at your natural waist for maximum poof and for shorter skirts.
Made to order unless listed as in stock. Please allow up to 6 weeks for manufacturing.
We also accept custom orders, please contact us for further information and a quote. (Different length, size, shape, lace details etc.)
The white and pink versions are sold out and will not restock.
Measurements:
Length: ca 44 cm (length may vary 1-2 cm between batches, for waist size please see size chart)
Materials:
95% polyester, 5% cotton


Imperfects:
Items listed as Imperfect did not pass our quality inspection completely but have no problems related to function or durability. These items have no woven brand tag in them or the tag has been cut. To make sure the materials won't go to waste, we sell these garments at a discounted price instead of discarding them.